"If you really want to make a friend, go to someone's house and eat with him…The people who give you their food give you their heart."
I stumbled on that quote while I was trying to find a way to start this post, and I can't think of a more perfect way to sum up everything about this cookbook club and basically my entire philosophy on sharing food. Need more really be said?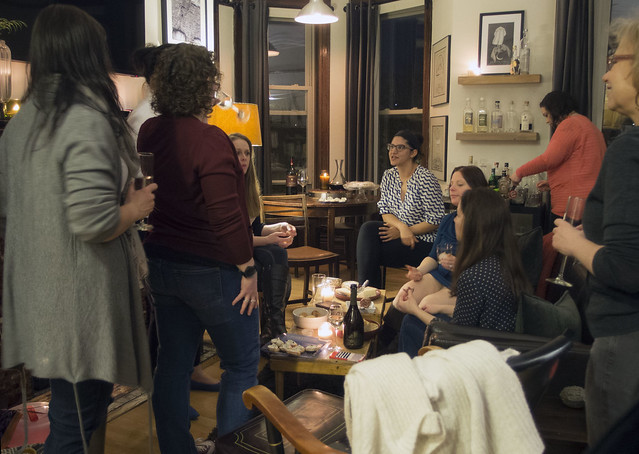 …Well, yes, because that's what I do here. In three meetings, these dinners have become a highlight of my month, not just for the amazing food (though, obviously, yum), but for the people. February's dinner included three new members, and all three were among the last of us left drinking, eating, and talking past midnight. You know you've found a special group when new people fit in so easily it feels like they've always been there.
It seems particularly fitting, then, that February's cookbook was Italian, a culture that embodies "people who give you their food give you their heart," and in which food and home and friends and family are deeply, inextricably intertwined.
I'm ashamed to admit that, while I read through Essentials of Classic Italian Cooking by Marcella Hazan like a novel at least twice when I got it a few years ago, I'd only made a recipe or two (and the minestrone I did make wasn't the revelation I hoped it would be). But this dinner was a perfect excuse to really dig into it–not solely for the recipes, but for Marcella's approach to food.
Many of us expected a Julia Child-like friendliness and enthusiastic encouragement from the book, but Marcella's opinionated style led to some fantastic (and hilarious) discussions throughout the whole month before we met, and again at dinner. There was at least a little angst (and a few foul words) directed towards the impossible-to-find salt-cured anchovies that Marcella insisted were essential. (Jarred anchovies were acceptable if you had no other options. Can only find anchovy paste in a tube or "bargain-priced" anchovies? Make another dish.)
Personally I loved Marcella's confidence that there is a "right" or "best" way to choose an ingredient or make a dish or organize a meal (salad course always to be served between the main and dessert, please and thank you). Granted, the best version may be the one her grandmother made (like the ciambella cake), but she also won't deny you options to discover your own best version (for the ciambella, for instance, she says anise and wine are welcome additions).
Interestingly, this book had both the most ambitious recipes (mushrooms, ham, and handmade fettuccine bundled inside a handmade pasta package–yes, that's pasta-filled pasta), and the simplest (a salad of raw fennel, salt, pepper, and olive oil) of any book we've picked so far. Most of the group went for the more project-y recipes (gelato, homemade tortellini), which were as good as you'd imagine, but the simple ones (the macerated oranges or fennel salad) were perfect compliments to the more complex dishes.
The unexpected discovery from this cookbook was finding that my Italian grandmother (who turned 102 last month, incidentally; yes she is amazing) regularly made one of my favorite dishes of the evening, pizza rustica (a.k.a. pork and cheese pie, Abruzzi style), a pastry dough stuffed with cured meats, cheeses, and eggs. As soon as I started describing the dish to my dad, he said "Oh, my mom and aunt always used to make that for Easter. It's in the family cookbook." And so it was, under "Italian Easter Pie." I'm planning to attempt my grandma's version in a few weeks. And maybe her German chocolate cake while I'm at it.
So, well-armed with Negronis and plenty of wine, these are the recipes we made from Essentials of Classic Italian Cooking:
Crostini bianchi (ricotta and anchovy canape) – Those damned anchovies. We don't know how this tastes with salt-cured ones, but with jarred anchovies in olive oil this was a perfect salty, creamy, crunchy little snack with the aforementioned Negronis.
Gallette (salt and pepper biscuits)

– Marcella notes that these are a perfect aperitif cookies, and she's right. Though the recipe is in the Desserts chapter, it's not sweet at all. Instead, these puffy little biscuits were perfect along side a plate of cheese and salumi.

Minestrone with homemade meat broth – I don't know what I did wrong when I made this a few years ago, but Gena's version was fantastic, and inspired me to try it again. We all agreed it was a perfect soup to make on Sunday and keep around for weekday lunches.
Pizza rustica (meat and cheese pie) – Not only did this look restaurant-quality, it tasted amazing–though as I said earlier it's hard to go wrong when you combine pie dough, cheese, cured meat, and eggs.
Insalata Russa (shrimp salad with assorted vegetables) – The most divisive, and also the most colorful, dish on the table. It was made and presented perfectly, down to the homemade mayonnaise and individual little peas tucked in the curl of each shrimp, but we laughed that it looked like it came from a totally different cookbook, perhaps one with a chapter on jello molds and aspics.
Some in the group recalled growing up with a variation of this dish, Salad Olivier, with diced vegetables, hard boiled eggs, potatoes, and pickles held together with mayonnaise, but Marcella's version added beets (I guess that's why it's Russa? and also accounts for the shocking shade of pink) and shrimp. Worth making if for no other reason than to debate if it's worth making again.
Crespelle with spinach, prosciutto, and Parmesan – Crespelle are essentially Italian crepes layered or stuffed with savory fillings–imagine lasagne or cannelloni with the lightness of crepes instead of heavy pasta. These were amazing and definitely a dish I plan to make for a dinner party. Or maybe dinner on Sunday.
Eggplant Parmesan – No, not the heavily breaded and heavily fried version we all know from the local Italian-American red sauce joint. Instead eggplant slices are lightly floured and fried in olive oil, topped with a quick sauce made simply of tomatoes and olive oil, and layered with basil, Parmesan, and fresh mozzerella. This is going into my summer rotation when one of my favorite stands at the market is selling eggplants 10/$1.
Tagliatelli with Bolognese ragu – Nothing beats homemade pasta, except perhaps homemade pasta with homemade ragu (which, according to Marcella, should be cooked "at the merest simmer for a long, long time; no less than 3 hours is necessary, more is better"). It's worth every second. I never quite got the appeal adding milk to beef, wine, and tomatoes, but after tasting this, it makes sense–the milk tames the acidity of the sauce perfectly and coats the long, wide tangles of tagliatelli beautifully.
Tortelleni with meat and cheese filling with tomato cream sauce – The second homemade pasta of the evening, and equally impressive as the first. I've made homemade pasta, but have yet to work up the courage to make stuffed pasta; this may have been just the encouragement that I needed.
(Have I mentioned there was a lot of food? There was A Lot Of Food.)
Stuffed spaghetti frittata with tomato, mozzarella, and ham – Leftover pasta is about as odd a concept to me as leftover wine is to others, but I might start cooking extra pasta just so I can make this the next day. I liked that it wasn't too egg-y (3 eggs for a half pound of pasta, just enough to hold the pasta together), and the layer of tomatoes, ham, and cheese added just the right amount of salt, acid, and, well, cheese. And now I'm imagining this with a layer of leftover eggplant Parmesan in the middle.
Pesto – Marcella's recipe is controversial since it has olive oil and butter along with the usual basil, pine nuts, garlic, and cheese (Parmesan and Romano), but if Marcella says it's ok, I'll believe her. It's exceptional, and reminded me that I have some frozen that I made with an overabundance of basil from my garden. (Incidentally, Marcella could give Paula Deen a run for her money given the frequency with which butter appears in this book.)
Sgroppino (Venetian lemon and strawberry "slush" with sparkling wine) – You know that punch that often shows up at summer picnics, the one with a container of creamy sherbet floating in a bowl of soda? Now imagine that punch spent the summer in Italy and came home with a serious amount of class. Homemade lemon ice cream is combined with strawberry puree and a bottle of Prosecco. And it is every bit as good as you're imagining.
Egg custard gelato and banana and rum gelato – Yes, we had two gelatos. Yes, they were both incredible (my personal favorite–adding a scoop of the egg gelato to a cup of hot espresso for a backwards affogato). Yes, we were all well into a food coma at this point.
Ciambella (Marcella's grandmother's cake ring)– One of my two contributions, this was an interesting challenge. The recipe itself is dead simple, but the instructions about "kneading" the dough just were not happening. The dough was much too dry and crumbly for kneading, so I just shaped it into a ring as best I could and crossed my fingers. The texture was similar to a half-baked biscotti–dense and crumbly, not too hard but sturdy enough to hold up to dunking in vin santo or coffee. Next time I'll reduce the flour by 1/2 a cup or so and it should be perfect.
Macerated oranges – This was the absolute perfect end to a meal that included no less than four kinds of pasta. Simple, light, and refreshing (and also good over gelato or a slice of ciambella, in case you were wondering).
Espresso – Because good lord we needed a shot of caffeine after this meal.
Next up–Ina Garten's Make It Ahead on April 2! I'm excited to try her recipes, I always hear such good things but haven't made much from the Barefoot Contessa.