"If you really want to make a friend, go to someone's house and eat with him…The people who give you their food give you their heart."
I stumbled on that quote while I was trying to find a way to start this post, and I can't think of a more perfect way to sum up everything about this cookbook club and basically my entire philosophy on sharing food. Need more really be said?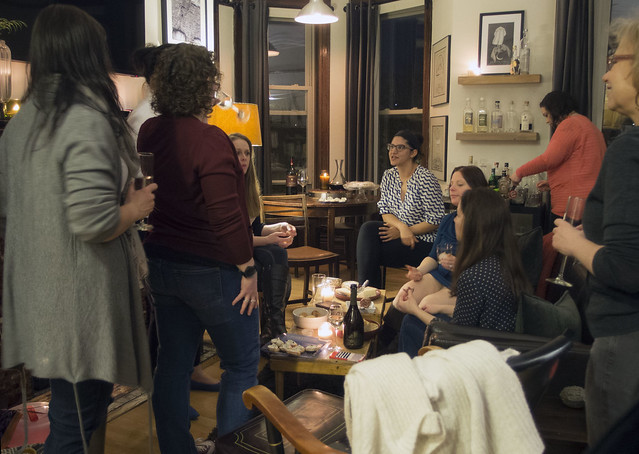 …Well, yes, because that's what I do here. In three meetings, these dinners have become a highlight of my month, not just for the amazing food (though, obviously, yum), but for the people. February's dinner included three new members, and all three were among the last of us left drinking, eating, and talking past midnight. You know you've found a special group when new people fit in so easily it feels like they've always been there.
It seems particularly fitting, then, that February's cookbook was Italian, a culture that embodies "people who give you their food give you their heart," and in which food and home and friends and family are deeply, inextricably intertwined.
I'm ashamed to admit that, while I read through Essentials of Classic Italian Cooking by Marcella Hazan like a novel at least twice when I got it a few years ago, I'd only made a recipe or two (and the minestrone I did make wasn't the revelation I hoped it would be). But this dinner was a perfect excuse to really dig into it–not solely for the recipes, but for Marcella's approach to food.
Many of us expected a Julia Child-like friendliness and enthusiastic encouragement from the book, but Marcella's opinionated style led to some fantastic (and hilarious) discussions throughout the whole month before we met, and again at dinner. There was at least a little angst (and a few foul words) directed towards the impossible-to-find salt-cured anchovies that Marcella insisted were essential. (Jarred anchovies were acceptable if you had no other options. Can only find anchovy paste in a tube or "bargain-priced" anchovies? Make another dish.)
Personally I loved Marcella's confidence that there is a "right" or "best" way to choose an ingredient or make a dish or organize a meal (salad course always to be served between the main and dessert, please and thank you). Granted, the best version may be the one her grandmother made (like the ciambella cake), but she also won't deny you options to discover your own best version (for the ciambella, for instance, she says anise and wine are welcome additions).
Interestingly, this book had both the most ambitious recipes (mushrooms, ham, and handmade fettuccine bundled inside a handmade pasta package–yes, that's pasta-filled pasta), and the simplest (a salad of raw fennel, salt, pepper, and olive oil) of any book we've picked so far. Most of the group went for the more project-y recipes (gelato, homemade tortellini), which were as good as you'd imagine, but the simple ones (the macerated oranges or fennel salad) were perfect compliments to the more complex dishes.
The unexpected discovery from this cookbook was finding that my Italian grandmother (who turned 102 last month, incidentally; yes she is amazing) regularly made one of my favorite dishes of the evening, pizza rustica (a.k.a. pork and cheese pie, Abruzzi style), a pastry dough stuffed with cured meats, cheeses, and eggs. As soon as I started describing the dish to my dad, he said "Oh, my mom and aunt always used to make that for Easter. It's in the family cookbook." And so it was, under "Italian Easter Pie." I'm planning to attempt my grandma's version in a few weeks. And maybe her German chocolate cake while I'm at it.
So, well-armed with Negronis and plenty of wine, these are the recipes we made from Essentials of Classic Italian Cooking: Continue reading →